Lloyds finally banks a chunky profit rise
At last, a bailed-out bank that seems to be sorting itself out. Despite all the fines and scandals, Lloyds Banking Group has posted £2bn profits for the first quarter.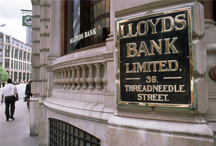 After the planned sale of 632 Lloyds branches to the Co-op fell through and then it had to take a £250m hit on exiting the Spanish market, Lloyds executives have plenty of reason to be crestfallen. But today, things were looking up. The bank posted pre-tax profits of £2.04bn, seven times the profit in the same period last year, and a gargantuan increase on the piffling £1m profit it made in Q4 2012.
So what has helped it get back to growth? Well, its 'non-core' division, which contains all its toxic assets, enjoyed a 22% reduction in impairments for the period. This meant a lower-than-expected loss of £392m – and of course the saving has mostly gone on the bottom line. It also sold a 20% stake in St James's Place wealth management business, which gave it a £394m windfall. The added benefit of dumping the share of that business is that if it does badly, Lloyds' balance sheet won't suffer.
Another improvement was that, for the first time in ages, the bank did not have to make any additional provisions for compensating customers over payment protection insurance complaints. So far, that little thorn in the side has cost Lloyds alone more than £7bn.