Lloyds and HBOS ease terms ahead of crackdown
As Government pressure mounts, Lloyds and HBOS have both announced measures to help small businesses.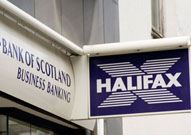 In the Queen's Speech today, the Government promised to punish misbehaving banks with big fines if they don't treat customers fairly – and two institutions who are about to take a large chunk of taxpayers' money have clearly decided to get ahead of the game. This morning Lloyds TSB and HBOS, the two banks plotting a mega-merger (with state support) both announced new small business-friendly measures, which will hopefully ensure that they don't have Treasury mandarins breathing down their necks for the next few weeks...
Lloyds TSB revealed a new six-point charter, in which it promised to pass on future interest rate cuts to business customers turning over less than £1m a year. As some have been discovering lately, some lending agreements include small print that puts a floor on how low rates can go – but Lloyds is apparently promising not to do this to its smaller clients. It's also promising not to change overdraft terms during the course of an agreement (or thereafter, unless it absolutely has to) and to set up 'surgeries' to help struggling businesses. Meanwhile Bank of Scotland has also eased its repayment conditions on its overdrafts, and requested £250m of funding from the European Investment Bank so it can provide cheap loans to business customers.
The moves came on the day of the Queen's Speech, which included more detail about the new Banking Reform Bill. This is based around Gordon Brown's new favourite word: 'fairness' (well, he can hardly stick with 'prudence' these days). The new legislation is partly intended to give the FSA, the Treasury and the Bank of England more power to intervene in the future (because obviously they would have been able to prevent the current crisis if they'd had these powers before). But it will also give banks a legally binding obligation to treat customers fairly; the FSA will apparently police this, and big fines could be meted out to those who refuse to toe the line.