Lloyds names Santander boss as new chief executive
The bank has nabbed António Horta-Osório, Santander's UK CEO. Which isn't going to go down well with the Spanish bank.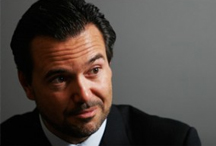 There may be trouble a-brewing between two of the high street's largest banks after Lloyds admitted today that it is planning to install Santander's UK chief exec, António Horta-Osório, as its new head. It's come as a bit of a surprise to City types, who expected the bank to promote from within its staff when its current CEO, Eric Daniels, steps down. But by far the biggest loser in all this will be Santander, which is losing Horta-Osório right at the time it needs him the most. Bad timing for Santander – great timing for Lloyds.
The plan is for Horta-Osório to start at Lloyds in January, then take over from Daniels at the beginning of March – six months before the Lloyds CEO was originally due to step down. For many of Lloyds' shareholders, who haven't always seen eye-to-eye with Daniels, it may come as a bit of a relief. Horta-Osório, who has been at the head of Santander's UK operation since 2006, and has helped to engineer its acquisitions of Abbey, Alliance & Leicester and Bradford & Bingley, is seen as a popular choice, with the experience to run Lloyds' more complex affairs (including continuing to counter the effects of its crippling HBOS acquisition back in 2008), and the charm to work alongside the Treasury, which still owns a 41% stake in the bank.
For Santander, though, things look bleaker: the bank had been planning to float its UK arm at some point in the near future, and without Horta-Osório's 'easy charm' (not to mention invaluable City and Government connections) to help sell the idea to investors, performing an IPO may prove challenging. In fact, there's a chance it may have to abandon the idea altogether for the time being – without a chief executive who is familiar with the UK landscape, an IPO when the markets still haven't fully recovered from the recession may prove too risky.