Lloyds PPI payouts now topping £5bn
Lloyds Banking Group's total compensation to customers over PPI has now topped £5bn, pushing the bank towards another quarter of losses.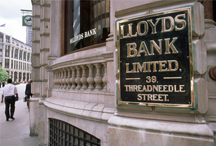 Executives at Lloyds must rapidly be losing any good humour they had left. The bank has announced that it has had to earmark a further £1bn of cash for Q3 to cover yet more compensation claims over mis-sold payment protection insurance (PPI).
This takes the total amount the bank will have spent on claims to £5.3bn, and means that the bank will have to post a £144m pre-tax loss for the period.
No doubt shareholders have really had enough of all this. A very expensive debacle indeed.