The Loch Ness Monster brand is 'as big as Coca Cola'
It may be a 'marketing man's dream' that has lured Charlie Sheen to the Highlands, but local businesses can't just survive off Nessie.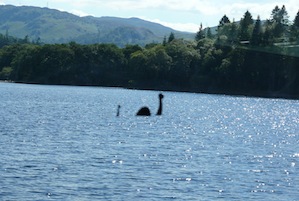 The Loch Ness Monster myth has been luring travellers to the Scottish Highlands since the 1930s, when the King Kong film got the world a bit obsessed with unnaturally large animals. As recently as last week, Nessie hunters got their latest fill from a grainy Apple satellite map image showing a monster-shaped shadow (which sceptics claimed was actually a boat's wake).

However, while the mystery in the deep is worth tens of millions of pounds to the local economy (one local expert estimates tourism is worth as much as £130m a year to the region; others put the figure at a more conservative £25-30m), local business leaders are advising tourism companies to cast their net wider than the loch.

'If we want a sustainable tourism industry we can't just have tourists…taking the photograph and moving on,' Graeme Ambrose, chief exec of the Inverness and Loch Ness Tourism Business Improvement District, a group aimed a strengthening tourism in the area, told MT. 'To get people to stay longer in the area you have to have more.' A whole brood of Nessies, perhaps?

Locals don't deny Nessie's pulling power though, estimated to be as many as 1 million monster-hunting visitors every year. A free seminar being run by the University of the Highlands and Islands in conjunction with tourism board Visit Scotland on May 16th is titled 'Monster Marketing', while aiming to get hotels, tour companies and adventure activity providers collaborating to keep tourists lingering longer than the obligatory loch pose.

The monster is 'a marketing man's dream', as Willie Cameron, who heads Loch Ness Marketing, a company providing services to film and media crews on location at the loch, put it. 'It's here 365 days a year. It doesn't need feeding or cleaning.'
Charlie Sheen: a Nessie believer
'It's as big as Coca Cola, Madonna, Elvis Presley. It's global,' Cameron, who is also sales manager for hotel and café group Cobbs, added. He recounted meeting an elderly Buddhist monk at a temple on the Andaman Islands in the Indian Ocean, who recognised the Loch Ness myth despite his only word of English being 'monster'.

Former Two and a Half Men actor Charlie Sheen even spent three days at the loch last summer to fulfil a 'boyhood wish to go fishing for the Loch Ness Monster', Cameron told MT. Sheen didn't catch Nessie though – not quite 'bi-winning' then.