Where did LOCOG go?
At its peak, almost a quarter of a million people worked for the company. Today, it doesn't exist. Neil Wood, former CFO of LOCOG ruminates on the massive task he faced one year ago, in dismantling LOCOG.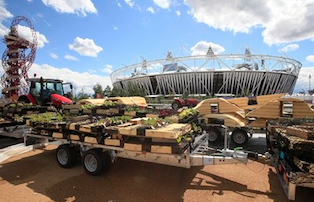 Exactly one year ago on this day, 9 September, the curtain fell for the last time on the greatest of all sporting shows. Amidst the last bits of tickertape, bunting and burnt pieces of fireworks lying around, the rest of us thought the show was over. For some, the work has only just begun. It signalled the beginning of the end for LOCOG.

The thought of having to construct an organisation the size of a FTSE 100 company in seven years, to ultimately deliver the biggest Olympic and Paralympic Games to date, may seem daunting to most. So the thought of having to do this – and then dismantle it in less than a year of fulfilling its purpose – seems downright impossible. However, this was the job requirement and deadline that we agreed to.

In the summer of 2012, LOCOG employed approximately 9,000 employees, 70,000 volunteers and indirectly over 150,000 contractors. Within days of the closing ceremony, the number of LOCOG employees had dropped to under a thousand. By the New Year, only a handful of staff was still on the payroll.

Whereas most companies develop organically over decades, LOCOG had to be designed for its purpose. How do you plan for, develop and successfully manage the winding down of a company before it has even served its purpose? Where does such a large-scale dissolution even begin?

Ordinarily, companies are either placed into liquidation as part of a group reorganisation, or when they become insolvent. It is relatively rare for a large organisation to be fully and solvently dissolved. It is even more unusual for this to be achieved in such a short timeframe. What we were asked to do had never been done before, so there was no way of knowing whether it was achievable, or anyone to ask for guidance on how to deliver this. There was no blueprint.

Our work on dissolution planning started in the middle of 2009 – an incredible three years before the Games. This created an additional challenge of ensuring there was constant, focused effort on the closure of the company, even while the planning for the Games was still underway and we still had 8,500 of our eventual 9,000 employees to hire! However, LOCOG's dissolution strategy was clear: to be closed and in formal liquidation by the end of June 2013, less than a year after the games.

After the initial outline planning and risk assessment process, we asked each of LOCOG's 60 business units to draft a detailed dissolution action plan with milestones, staff plans and resource requirements. Those plans were consolidated across the business and cross checked to make sure that "assumptions" were turned into "agreements". For example, the venue management function couldn't just assume the logistics function would remove assets from the venues; it had to have an agreement in place.

Another important element was that the employment end date for every one of LOCOG's 9,000 employees was tied into the milestones of the dissolution plan. No one with a role to play in the dissolution would have an agreed end date that was inconsistent with their responsibilities as set out in the plan.
Because we had committed to giving our staff their end dates a year before the Games, we had to ensure that our detailed dissolution planning was well advanced.

In the final months post Games we had venues to dismantle, dilapidations to complete, land to remediate, offices to vacate, leased assets to return, owned assets to sell or donate, bills to pay, cash to collect and over 2,000 live contracts to negotiate to settlement.

Despite this enormous task, the wind up of LOCOG was done in record time and was acknowledged by the International Olympic Committee (IOC) as the fastest dissolution of any summer Games.

Though the aim was to be wrapped up by the end of June 2013, LOCOG was in fact placed into liquidation on Thursday 30th May 2013. It also generated a surplus of £30m and achieved a further saving of £190m on behalf of the Government.

Next time, a blueprint exists. Perhaps Rio will be eager to learn, and benefit, from our experience. Beyond the Games, or even sport, LOCOG seems to have created – with great success – an interesting model for a new breed of "pop-up" company. So, perhaps this time last year was not the beginning of the end, but merely the beginning of something new.

Neil Wood is a partner at Deloitte and former CFO of LOCOG. Deloitte was the exclusive professional services provider to London2012 and provided advice and implementation for the dissolution plan for LOCOG.