London could be getting a swimming pool in the Thames
A Kickstarter campaign to fund the project has passed its initial target of £125,000.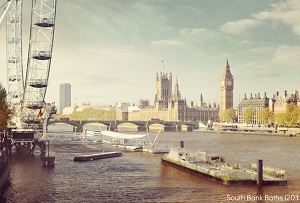 The River Thames isn't the most appealing place to go for a dip, but a group of ambitious visionaries has jumped the first hurdle in building a swimming pool in London's main waterway. Architectural firm Studio Octopi drew up plans for a floating structure that would sit either by the London Eye or Tower Bridge and would be filled with filtered water from the river, which would be heated in winter.
Now they've raised £125,000 through rewards crowdfunding site Kickstarter in a bid to make the plans a reality. Though the final cost of the project is likely to be £11m, the campaign claims the initial money will help them to get planning permission and get the project off the ground. It will also help them to show potential sponsors there is solid demand for such a scheme. A similar project in Bristol, The Wave, has raised more than £200,000 towards building a 'surfing lake'' in a man-made outdoor pool.