London has mad skills
The UK capital knows how to throw its weight around when it comes to attracting the highly talented.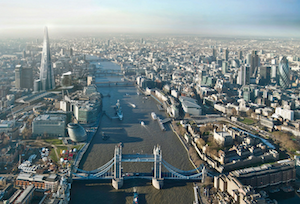 Cries of 'skills shortages' have been audible in the UK for some time; we've heard vacuum virtuoso James Dyson bemoan the lack of engineering talent, heard startups talk about the pain of finding good developers and seen wages rise in compliance as demand heightens in the City. But, according to a survey by Deloitte, London employs more highly skilled people than any other city – so the shortage may be great but we're good at tackling it.

The survey looked at 22 highly skilled sectors and it turns out the Big Smoke comes out on top of 12 of those - including retail, investment banking, legal services and digital media. New York, by comparison, comes second, topping seven sectors, Los Angeles employs most in two sectors and San Francisco has the most in one (we'd wager technology).

Digging deeper into the figures, 1.5 million people are employed in London across those 22 areas, New York has 1.2 million and Los Angeles has 784,000.

'This study demonstrates London's power in the global economy,' said Angus Knowles-Cutler, London senior partner at Deloitte.

'It is a desirable and diverse city in which to work, allowing it to attract the very best of British and international talent. Indeed, our city's highly skilled talent might be one of our greatest invisible exports.'

The study predicts a minimum net growth of 300,000 jobs in the capital by 2020 and a third of these are expected to be in the highly skilled sections.

It all sounds very exciting but we need to exercise caution – we're not out of the skills woods yet.

'This will not last forever without renewal and regeneration. London has to address a number of fundamental challenges, for example, in infrastructure, housing and immigration, if we are to retain our lure as a destination for the world's top talent,' adds Knowles-Cutler.

Deloitte has come up with some recommendations to make sure the UK capital can continue its own skill of attracting, well, skills.
These are:
1. Appoint a chief talent officer to deliver London's talent strategy.

2. Address pressures on infrastructure and housing to make London a more affordable place to live.

3. Strengthen business links with education

4. Develop talent outside of London as well

5. Implement an intelligent visa system

'I cannot pretend that we in London are getting everything right,' said Kit Malthouse pragmatically.

'There are gaps in the workforce's skills set, and the Mayor and I are working hard, with Government and the private sector, to address these.'

'This is why I particularly welcome this research by Deloitte, which shows us what we are getting right and what specific areas need greater attention. I am also pleased that the report shows that London is well-placed to remain a city with global influence in the 21st century and beyond.'

How very Buzz Lightyear.