Published: 07 Dec 2016
Last Updated: 13 Dec 2016
MT popped along to TechCrunch's Disrupt conference this week to find out how the nation's start-ups are feeling in the aftermath of the Brexit referendum. A room full of entrepreneurs is always going to be looking for the upsides and opportunities that a period of upheaval and uncertainty presents. But the reality is that, as one of the nation's most cosmopolitan, mobile and outward-looking sectors, tech could stand to lose out massively from the UK's departure from the EU.
Even Steve Hilton, the former adviser to David Cameron and the sole open Brexiteer to grace the stage, admitted he was disappointed with how things have gone since June. Theresa May's insistence that a citizen of the world is in fact a citizen of nowhere stands in stark contrast to Hilton's naively utopian vision of an 'open Brexit,' after which Britain trades more with the world and is an even stronger magnet for the brightest and best. 'It doesn't look to me as if [May's] government is pursuing that path at all, and rather what they seem to be doing is going down a darker path,' he said.
Of course nobody knows what will happen next. The government has repeatedly refused to give a 'running commentary' about its negotiation strategy, much to the frustration of businesses. 'It's just an uncertain world out there - bring it up at a board meeting and there's no Plan A, no Plan B, no Plan C' said Sonali De Rycker of VC firm Accel. 'We do not have a clue what's happening.'
Not every member of the UK's start-up 'community' backed remain, but there was a heavy skew in that direction. In a straw poll of TechCrunch's audience, just one brave Leaver put up their hand. Most would like to retain membership of the single market, and particularly of the digital single market, a new scheme and key plank in the programme of European Commission boss Jean-Claude Juncker's administration. But that seems unlikely, given the government's apparent determination to pursue a so-called 'hard Brexit.'
This presents a big opportunity for our continental neighbours to seize the title of Europe's digital capital. Uber-liberal Berlin is tipped to usurp London, its super cheap offices, low cost of living and bohemian culture proving a big draw. And even Paris, previously something of a start-up basket case, is on the offensive. France's minister of state for digital affairs Axelle Lemaire was at Disrupt in the hope of luring more techies across the channel.
A mass exodus is unlikely. 'People say will you stay, will you leave? But that's not really the point,' said London-based Frenchman Frederic Court, managing partner of Felix Capital. 'People have built their lives here. I think many people will stay but the main challenge is people will not come.'
Perhaps the biggest fear is a clampdown on start-ups' ability to hire the best talent. At the moment they are free to recruit all the software engineers and system architects they need from across the EU as easily as those already living in the UK. But it's a lot harder to bring even very skilled workers in from beyond, and the government's policies are only getting more restrictive.
'It takes on average 16 weeks to hire someone through the Tier 2 general visa process, it takes about three weeks without that,' James Wise of Balderton Capital tells MT. That might not be such a problem for tech giants with massive global workforces like Facebook, Apple and Google, which have announced more investment in Britain since the referendum. But 'if you've got a team of 10 people then it means 10% of your team can't come to work for three months – that makes a big difference to you.'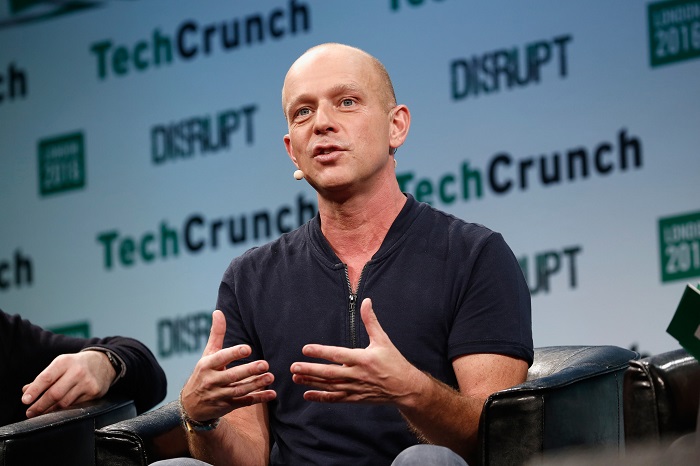 Steve Hilton says Brexit is the 'revenge of the disrupted'. Image: TechCrunch
Measures to preserve the sector's access to skilled people top a list of demands drawn up by a group of UK tech luminaries including Betfair founder Ed Wray, Skype's Niklas Zennström, Decoded's Kathryn Parsons, and LastMinute.com's Brent Hoberman. They want the government to introduce a 'STEM passport' to make it easier for those with science and technology skills to live and work in the UK.
But visa policy is only part of the challenge. There's a danger that Brexit does real damage to the image of the UK and London in particular as somewhere that's open for business. In the words of Lemaire, 'It's all very well to talk about the how can we attract the best talent to London, but will they feel welcomed by the rest of the country?' Of course France has its own challenges in that regard – the expected strong performance in next year's presidential election by Marine Le Pen of the far right Front National is unlikely to make migrants feel welcome there either.
There was time at the event for some soul-searching too. Hilton urged start-ups to heed the lessons of the referendum. 'For the last 30 years or so, the world has been run according to an ideological orthodoxy, a technocratic orthodoxy, that is completely positive about globalisation, about automation, about centralisation of government and other things,' he said. 'And that has created enormous winners and benefits around the world and produced a new generation of incredibly wealthy people and more broadly spread opportunity.
'But it has also delivered, for millions of people, real economic hardship, stagnation and a rending of the social fabric they're used to. What we're seeing in the Brexit vote, Trump and all over the place, is a revenge of the disrupted...The tech sector has to think about the real human consequences of our innovations, which are great for some but really disastrous for many.'
Should tech firms really be apologetic about globalisation and migration? Brent Hoberman didn't seem to think so. 'The fact is you can't stop globalisation - but you do have to think what to do about it and think about redistribution.' On immigration, 'Of course we understand there are strains in certain communities and it's not all been perfect, of course, but big picture it's been a net gain.
'People don't talk enough about the deflationary effect [of the internet],' he added. 'These things take friction out of the system, they take cost out of the system, they make products cheaper for consumers. Which is why your purchasing power parity (your ability to actually buy things) is probably not as bad as your lack of growth in median income.'
What is clear is that tech needs to show the public it's not 'a group of hipsters in Shoreditch and actually is nationwide and strategically important to the country,' in the words of James Wise.
'Every single industry, every sector is undergoing a digital transformation,' adds Parsons. 'It's not just about a small start-up community, this is an economic issue.'
Never afraid of a bit of self-promotion, UK techies will continue to toot their own horns and bang the drum for an open Britain. Whether the government sits up and listens is another matter.