London Tube strikes: is this the summer of discontent?
Strikes paralyse London for the second time in as many months, but walkouts will remain the exception rather than the rule.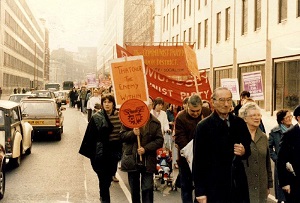 It may sound like today's London Underground strike has brought the city to a standstill, but it's hard to assess its exact economic impact. Certainly, the leisure, retail and hospitality sectors will be suffering as tourists and workers avoid the commuter chaos, though the latter will probably spend the same on goods and services, just in different places or on different days.
One way of measuring the impact of strikes in general is the number of working days lost directly to industrial action in a year. The figure was 788,000 last year, according to the ONS, up from 443,600 in 2013 and 249,000 in 2012. Do the tube strikes fall into a pattern then? Should we get ready for power cuts and the return of the three day week?
Let's not get carried away. Strike action has followed an up and down pattern for decades (2011, for instance, had nearly 1.3 million days lost), so there's no reason to think the upward march of militant unionism would continue.