London's first 'social supermarket' aims to tackle poverty and food waste
The store will offer discount prices on surplus food donated by supermarkets.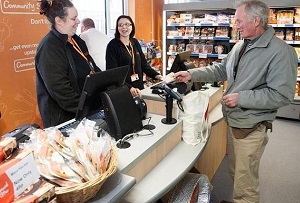 Food poverty in Britain is on the rise, with more than 900,000 people receiving provisions from food banks in the last year, according to the Trussell Trust. At the same time 3.5 million tonnes of food is wasted each year by manufacturers and supermarkets, 10% of which is just because of surplus orders or problematic packaging.

In a bid to conquer these twin problems, a national rollout of 'social supermarkets', which will offer 70% discounts on surplus food to those living near the breadline, has started today. The first Community Shop opened today in South Norwood in south London, and there are another 20 such stores in the pipeline, after a successful pilot in Goldthorpe, Barnsley (where Margaret Thatcher's effigy was burned on the day of her funeral).

'Community Shop is tackling the problem of surplus food, while giving it real social purpose,' said John Marren, chairman of Company Shop Group, which is behind the project. 'Not only do we offer high-quality low-cost food to people experiencing tough times, but we provide them with the chance to take up support services because they are motivated to do better.'
It could be easy to see this as another challenge to the big supermarkets, which are facing competition from discounters Aldi and Lidl, but the initiative is supported by Morrisons, Asda and Tesco and is targeted at the very poorest rather than consumers with the luxury of choice.

'We are really committed to reducing both food waste and food poverty in this country, and Community Shop is a way of not only doing that but also about creating new customers as they come out of the Community Shop process and go back in to mainstream retailing,' said the remarkably honest Gavin Chappell, Asda's VP of supply chain and ecommerce.

The members-only shops will offer those on income support knock-down prices on food which would have gone to waste from those supermarkets as well as Marks and Spencer, The Co-operative and Ocado. It will include everything from meat and vegetables to Innocent Smoothies and Muller Rice, but not alcohol or tobacco.
People will be assesses for membership based on their location, whether they receive benefits and if they have a desire to make positive changes. Excess money raised will be put into a development programme to help members with getting jobs, cooking and other life skills.

Of course the scheme can only do so much to deal with the problems. Without more reasonably paid jobs the squeeze on incomes isn't going to go away, and it will likely take a mixture of Government, private sector and charitable support to amend this.

Equally difficult to address is the level of food waste. Community Shop's members will only be able to munch their way through so many mislabelled packets of biscuits, not to mention the 6.7 million tonnes wasted by households each year. It's a good start though.