London's Piccadilly gets capital's first £250m home
These days, even the biggest lottery win won't net you the very finest property in London. The old In & Out club is about to be made into a house and sold for a quarter billion.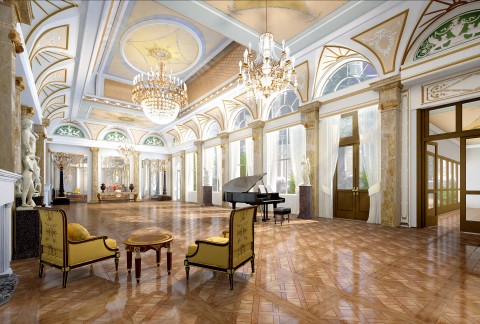 If you thought that the price of property in London couldn't possibly rise higher (especially at the top-end), then prepare to be surprised. The building that used to house the Naval & Military Club (nicknamed the In & Out, a gentleman's club) is currently being transformed into one of the largest individual residences in London, and in one of the most exclusive locations.
Cambridge House, at 94 Piccadilly, is a stone's throw away from Park Lane, St James and Buckingham Palace, and when completed will be going on the market for a whopping £250m.
Naturally, it will be adorned with gold-leaf cornicing, varnished parquet flooring and so on, but the amazing thing is its sheer size. At 60,500 square feet, this will be one of the largest houses in the UK, let alone London. It has 48 separate rooms, a wine cellar capable of storing 35,000 bottles of wine, an underground swimming pool and gymnasium complex, enormous staterooms (for entertaining a few hundred close friends), and views across Green Park.It's has really easy access to the Victoria and Piccadilly lines and numerous convenient bus routes. Ha.