How London's recycling king built an £11m turnover business
Bruce Bratley is adamant First Mile's competitors just can't keep up.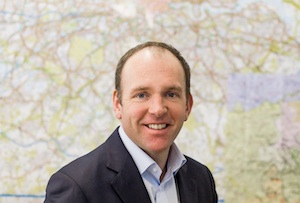 If you work in or near central London then chances are you've seen one of First Mile's collection trucks, even if you've not realised it. Its fleet of 50 vehicles picks up recycling from 15,000 businesses in the capital, making millions of collections each year. Founded 10 years ago, today it's one of London's largest private commercial recycling businesses, employs 100 people and is set to turn over at least £11m this year.
Its CEO and co-founder is Dr Bruce Bratley, who has a PhD in waste management and a name not dissimilar to the Incredible Hulk. He created the business in response to what he thought was poor quality and expensive service from local authorities who deal with recycling for small businesses in dense urban areas. He says small companies had difficulty getting their recycling done because a lot of larger providers wouldn't touch them and so councils didn't have to compete.
His solution was to launch First Mile, which relies heavily on technology to keep costs down and improve customer service. It has developed a proprietary computer system that connects managers with sales teams, collectors and customers. Data collected by the system can be analysed and used to make the routes more efficient - an edge that Bratley says was key to First Mile's success so far.