Long hours are a real pain
Spending the whole day chained to your desk may seem like a good way to impress your boss, but it's bad for your health and your personal life, according to a new study.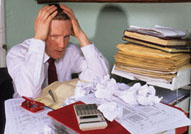 If you weren't depressed enough by Wednesday's news that we're all working longer hours than at any time in the last decade, insurer Legal & General has some more gloomy statistics. According to their latest study, 23% of UK employees are unhappy with their work-life balance and one in five said it was because they were working too much.
But it's not just about long hours. Apparently nearly one in four of us don't take a single break from our desks during the working day – not to get a coffee, not to take lunch, not even to stretch our restless limbs (though presumably this doesn't count toilet trips, or there'd be a lot of crossed legs about).
As you'd expect, this isn't doing much for our mental and physical wellbeing. About 22% of these desk jockeys said they were stressed out by their daily routine, while 23% think they're not getting enough fresh air and 17% think they're not getting enough exercise (which makes us suspect that most of the other 83% are probably kidding themselves). And relying on desk-based snacks isn't good for our diet either – nearly 30% are worried about their eating habits, which is well above the average for the population as a whole.