'Long maternity leave can make returning to work difficult'
The chief executive of the Girl's Day School Trust has banished jolly hockey sticks - but she says that for women to achieve their best, workplaces must adapt.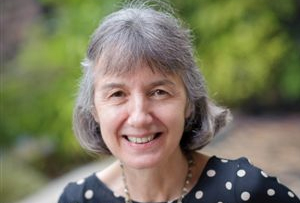 Walking into the office of Girls' Day School Trust chief executive Helen Fraser's office feels rather like going to see the headmistress.

Quiet, impeccably spoken and with a greying bob, Fraser is welcoming, but no-nonsense - think Malory Towers' Miss Grayling in a Zara suit. It's apt: at the helm of the UK's largest chain of independent schools, she is responsible for the schooling of 8% of the privately-educated girls in this country.

GDST schools have turned out some of our most high-profile women, including historian Mary Beard, Great British Bake-off judge Mary Berry and Eliza Manningham-Buller, the former director general of MI5 (as well as - in the interests of full disclosure - yours truly).

MT's 35 Women Under 35 has also included its fair share of alumni: from the 2010 and 2011 lists alone, Shazia Awan, Louisa Moger, Alexandra Popa, Aimee Di Marco and Anita Panchmatia are all GDST grads.

Since former Penguin managing director Fraser took the reins in 2010, though, the organisation has undergone a transformation.

In my day - the late 90s-early 2000s - there was still a whiff of jolly hockey sticks about the group (Enid Blyton was, naturally, another alumnus). Now it's a sleek, modern organisation aimed at educating women to achieve their best.
Fraser has been at the forefront of this transformation, making headlines with her speeches at GDST conferences in 2012, when it was reported she had told girls to be 'ambitious' in their choice of husbands, and then again in 2013, when she said women thrive at work if they are praised more often.

Was she really saying that, as was reported, girls need to be taught how to choose husbands?

'No, of course not,' she says. 'What I actually said was that, if and when you choose a partner, it should be somebody who is prepared to accept that there needs to be space for two careers in a relationship.

'If you choose somebody who says, "my career comes first and you're just going to have to fit yours around the edges", that can be very challenging.'

Fraser ran Penguin for 13 years, launching the literary careers of the likes of Zadie Smith and (less literary) Jamie Oliver. Throughout her 37 years in publishing, she says she noticed a difference in behaviour between male and female graduates - and as a result, she believes girls need to be pushed into flagging up their achievements.

'One thing I used to see is you'd get a really clever girl with a great degree from a good university. She'd be sitting in the corner of a busy corporate office doing absolutely brilliant work and she'd say to herself, sooner or later someone will notice.

'But the awful truth is everybody is too busy. They don't notice - but she feels it's unfeminine or undignified to draw attention to what she's doing,' says Fraser.

'Equally, when you talk to women who are at the top of the tree, they're very calm and happy and unembarrassed to tell you about their achievements. They never feel they have to hide their light under a bushel or that it's unfeminine to say, "yeah - I rescued this company" or "I turned this organisation around".'

Her comments about employers praising women at work were controversial. However, she suggests that although the business environment has changed beyond recognition since the the 80s when 'men swore all the time and had affairs with secretaries and smoked through every meeting', businesses still need to work on eradicating machismo and accommodating a more feminine style of working.

'Women employees who are good need to be told very directly, face to face, how good they are,' she says.

'One of my daughters recently went for a job where she worked. She didn't get it - but they took the opportunity to say, "you are one of the best people working in this organisation and you have a great future here". If a girl hears that, it can be incredibly powerful. It makes her feel she wants to really go for it. It will just give her that confidence.'

But what of the 'baby-bust' - the phenomenon of women vanishing from the workplace as they hit child-bearing age.

The classic argument goes that, around 30, women 'go off and have babies', which in turn derails their careers - but Fraser says it's the work environment, rather than the decision to have babies, which can sometimes lead to women disappearing from the workplace altogether.

In fact, one of the major challenges faced by businesses, she adds, is not allowing women to be discouraged from returning to work.

'What a pity it is if somebody goes off to have their first baby and they're feeling a bit discouraged and overlooked at work and they let that sense of discouragement affect their choice.

'Sometimes it happens that a woman says, "well maybe I won't go back, maybe I'll have another baby" - and before they know it, they've been out of the office for six years and then, as is very well documented, it's really hard to get back,' she says.

Famously, Fraser only took six weeks' maternity leave after she had her two daughters. Isn't that contributing to that discouraging atmosphere, I ask.

'I did take six weeks, but I worked very odd, tapered hours for the first six months,' she explains. 'I'd come in on Tuesday morning and Thursday morning, and then not come in for a week. It wasn't until six months later that I was properly back.

Nevertheless - doesn't that sort of behaviour put unnecessary expectations on women who want to take longer?

'I have a theory, which is probably quite politically incorrect, that very long maternity leaves can make a return to work more difficult,' she counters.

'If you go back to work after six months, your baby is, to some extent, still an adorable little blob coveting food. You give them a kiss and you go off to the office and as long as you've got your childcare sorted it's fine.

'By the time they're a year or 18 months old, they're wrapping their arms around your knees and saying, "please don't go to work, mummy!". And that's harder. I think sometimes six months is better, because you really feel you've given your baby lots and lots of yourself for the early bit - but it'll start to get used to you not being there,' she says.

She is in favour of boardroom quotas, saying they have 'worked in Norway and they weren't welcomed in Norway... but, surprise, surprise, they managed to fill all kinds of really able women to fill those posts'.

Perhaps, I suggest, it's time to stop talking about women's issues and just get on with things. No, says Fraser.

'We can stop talking when we've got more than four women in the cabinet and more than 20% of MPs who are women and more than 15% of vice chancellors who are women and more than 3% of high court judges are women,' she says.

'When women are not so under-represented at the top of the professions and in business. Then I think we can stop talking about it. Until then, we have to carry on.'
- On Sunday MT reveals this year's 35 Women Under 35 list. Look out for details on MT from Sunday.