Longer working hours on the rise again
UK workers are working longer hours than they have been for a decade, according to a new TUC study. For the first time since 1997, the number of people working more than the legal maximum of 48 hours has actually gone up – which is bad news for our family lives.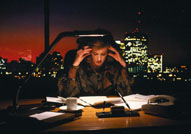 The TUC say that more than one in eight people now work more than 48 hours a week. This is the maximum allowed under the EU working time directive – but since UK workers are allowed to opt out of this, it's widely considered to be about as useful as a chocolate fireplace.
The proportion has been declining steadily since Labour came to power in 1997, but according to the TUC it rose last year from 12.8% of the workforce to 13.1%. That's more than three million people – almost half a million of whom are in London, where more than 16% of workers regularly exceed the 48 hour limit.
As you'd expect, the TUC thinks that evil bosses are to blame, arguing that 'a hard core of bad employers' are flouting the rules. General secretary Brendan Barber said: 'Many employers recognise that overworked staff are unproductive by introducing more flexibility and better work-life balance, often under union pressure. But it now looks as if their efforts are being undone by those who don't care about long hours. There is undoubted abuse of the law, but employers know they can get away with it because it is rarely enforced.'