Looking for a flexible job? Leave London
A new report finds that London is the worst place for people looking for jobs offering flexible working.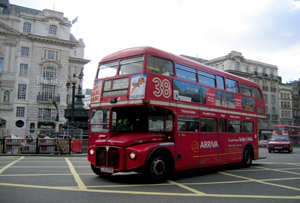 Here's one in the eye for all those who trumpet the Capital as the sine qua none of everything to do with work and economic progress. It's bottom of the class when it comes to jobs advertised as offering flexible working.
Yes, only 3% of quality job vacancies advertised in London mention flexible working, but that figure rises steadily the further north you go, hitting 4% or 5% in the Midlands and the North before peaking at 7% in Scotland and N Ireland.

So on the face of it if you are looking for a good job that you can fit around other commitments - whether those be childcare, eldercare or just the desire to have some time to do other things in - then Scotland is the place to be, and London is not.

But the truth is that wherever you live, you options for openly advertised flexible jobs are pretty limited. The research - The Timewise Flexible Jobs Index - analysed over 3.5m 'quality' jobs advertised on 122 job boards over a six month period last year, and found a national average of only 6.2% offered flexible working from the get go.

This despite the fact that over 14m employees - no less than 46% of the UK workforce - want or need flexible working in their jobs. Locking a substantial number of highly qualified people out of the labour market, leaving others seriously under-employed, and creating what Timewise co-founder Karen Mattison describes as a 'Talent bottleneck'.

Even those who already work flexibly feel the impact. '77% of flexible workers feel 'trapped' in their current role. All too often career progression grinds to a halt as their skills become under-utilised, they get stuck at one level and many end up leaving their profession in frustration.'

What exactly is a 'quality job'? The research looked only at jobs offering salaries of £20,000 or over, full-time equivalent, and excludes those with zero-hours contracts, temping, self-employed and franchise opportunities.

The problem gets worse as salaries and seniority increase - only 3% of job paying between £40,000 and £50,000 advertise flexibility and a mere 2% of those paying over £100,000. Leading to a self-sustaining 'myth' on both sides of the recruitment fence - firstly that ambitious people who want to get to the top of the greasy pole don't want to work flexibly, and thus secondly that employers who want to be taken seriously by such candidates shouldn't hire flexibly in the first place.

So what's causing all these variations, and why don't more job ads offer flexibility from the off? The north/south split may be accounted for by the distribution of public sector jobs, the public sector being traditionally better at this sort of thing. Indeed the research found that the sectors which were best for flexible hiring were health, social care the education.

Similarly London's poor showing may be accounted for by the relatively small proportion of public sector jobs in the capital's vibrant private sector economy, and also by the ready availability of good quality candidates happy to eschew flexibility. (This also chimes in with another report today, finding that the skills gap is worse outside the capital. Maybe those employers have to try harder to attract good candidates).
The worst sectors for flexibility were found to be engineering and manufacturing (factories don't stop at school home time after all) and (rather less obviously) the creative industries.

But why does all this matter? Surely if people are well qualified and want to work flexibly, if the job ad doesn't offer it they can simply ask? Plenty of employers do offer flexibility but they do it quietly, effectively as a concession for good employees whom they wish to keep rather than as standard practice.

Well yes they could ask, says Mattison, but many do not. In fact they may not even apply, which leads to highly-qualified but under-utilised people, reduced productivity and employers missing out on potentially great candidates.