Is Lord Alan Sugar out of touch with SMEs?
The Government Enterprise Czar's comments suggest he may have forgotten his small business roots.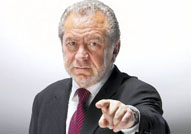 We wonder if Lord Alan Sugar is regretting his comments earlier this week, when - in case you missed it - he suggested that 85% of small businesses weren't worthy of bank loans, and dismissed their owners as 'moaners' who have been living in 'Disney Land'. He certainly seems to have lost a few friends in the SME community, with various people insisting that he's out of touch, and arguing that a millionaire TV star may not be the best person to articulate the challenges facing small businesses (perish the thought). Even if there was a kernel of truth in what he said, we're not sure what possessed him to say it...

OK, so many small businesses are struggling at the moment. But this doesn't mean they're intrinsically doomed to fail, or that they should be calling insolvency practitioners rather than lenders, as Sugar appeared to suggest. According to one small business owner we spoke to this week, the single biggest challenge facing small companies at the moment is cash. 'There are lots of businesses that have got a very viable proposition but they're not getting paid by their clients or their suppliers, and therefore they are struggling with cashflow,' she said. 'Very often what companies need is a bridging loan, just to help them keep their heads above water until their invoices have been paid. It's not that they've got bad business models.'

Sugar's comments have certainly provoked the wrath of the very community he's supposed to be championing. The Federation of Small Businesses said it was 'extremely disappointed' by his attitude, and called for him to stand down as the Government's enterprise czar immediately. And although PM Gordon Brown has been fighting his corner, politicians from other parties have naturally been queuing up to put the boot in. (Naturally, most have been unable to resist the temptation to use that infernal expression 'You're fired' at some point).

In some respects, Surallun may have had a point. A few years ago, credit was cheap and easy to come by, and new business owners probably did get a false impression of how simple the process ought to be. Equally, some companies probably got funding that shouldn't have. On the other hand, lots of perfectly good businesses are now struggling to get their hands on loans, for reasons that are as much to do with the structural problems in the banking sector as their own inadequacies. And whether he's right or not, we don't see how it helps matters for the Government's enterprise champion to be seen to be slagging off small businesses in public...

In today's bulletin:
Another 1,200 jobs to go at BA after worst-ever first-half
RBS losses balloon and more Brits than ever go bankrupt
Read our new blog: John Vincent's Life of Enterprise
Is Lord Alan Sugar out of touch with SMEs?
Editor's blog: Buffett betting on rail