Lord Browne: allow unis to set their own fees
A report by the ex-BP chief says university fees should be capped to create a free market. The Lib Dems might not agree...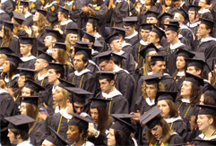 Is the world of UK academia about to be turned upside-down? Well, if Lord Browne has his way: the ex-BP CEO has just published a report into university funding suggesting some pretty radical changes. Most significantly, the report proposes raising the cap on tuition fees and changing how the loan system works, allowing students to start paying back their loans later, and over a longer period. Lord Browne says the changes are necessary if universities are to cope with the increased demand for places. But there are a few hurdles to overcome before they can be adopted – not to mention Lib Dem MPs, who are unlikely to be very impressed…

According to Lord Browne, it's all about putting the power in students' hands. He says by removing the £3,290 cap currently set on fees and allowing universities to decide how much to charge, they'll then be forced to prove their value for money to students (or 'customers', as they'll presumably henceforth be known). But there's a catch: unis will be charged a 40% levy for anything over £6,000, and 75% when they hit £12,000 – which will go towards funding places for students who are less well off.

While loans will, naturally, rise, students won't have to pay course fees up-front – and they'll only start paying their loans off when they are earning £21,000 a year – up from the current threshold of £15,000. And although the amount they repay per month won't change from 9% of income, graduates who earn more will have to pay an interest rate of 2.2% above inflation, while lower-paid grads will only have the base rate to contend with.

This might not be so attractive to less well-off students who don't want to be lumbered with thousands of pounds' worth of debt once they've graduated. Fears have already been raised that it could create a 'two-tiered' education system, where those who are confident that they'll be able to afford to repay sky-high fees once they've graduated will be able to attend the best universities, while poorer students will have to resort to cheaper establishments. And Lord Browne's suggestion that the Government remove funding on all but 'priority' subjects like science, medicine and engineering could mean that arts and humanities subjects lose out.

The big question now is whether the Coalition Government adopts the recommendations at all. Because while they're likely to sit well with the Conservatives, the Liberal Democrats won't be so enthusiastic: just before the election, all the party's sitting MPs signed a pledge to vote against any increase in tuition fees. The National Union of Students has even claimed that 'nearly 30 Lib Dem backbenchers are prepared to rebel by voting against the Government over a rise in tuition fees'. This isn't over yet.