Lord Harris wants his ball back
Private equity may have taken a bit of a kicking in recent months, but the boss of Carpetright has proved again that the attractions of running a company away from the pesky scrutiny of the public markets remain undimmed for many business leaders.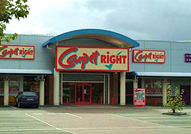 Today Lord Harris of Peckham finally launched his bid to take the listed retailer back into private hands. The peer is offering £850m, or £12.50 per share, to buy back his own company – a premium on last week's share price, though almost £1 lower than when the takeover talks were announced.
Clearly Lord Harris believes that the cost-cutting he has already started to carry out (100 jobs have been trimmed since January) can be done more easily away from the glare of the public markets. For a man who grew the company from a three-store chain into the biggest private retailer of its type in Europe, it can't be easy to have to justify his every move to a large shareholder base.
Going private would also eliminate the need for him to talk through Carpetright's results (and justify its lacklustre share price performance) on a quarterly basis – which would be particularly useful if trading conditions deteriorate, as Harris expects.