Lord Heseltine calls for minimum wage hike
The former cabinet minister said increasing wages could save the Government billions.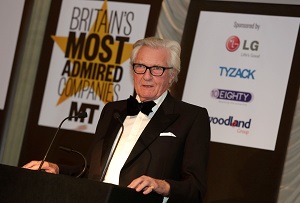 George Osborne will deliver one of the most important speeches of his time as chancellor today as he tries to woo voters with his Autumn Statement ahead of the election next May. The Tory grandee Lord Heseltine, who founded Haymarket and MT, gave him something to consider last night with a call to raise the minimum wage.

Speaking at MT's Britain's Most Admired Companies awards dinner at Claridge's last night, the former deputy prime minister said lifting people out of low pay could save the public purse billions of pounds in in-work benefits.

'Huge numbers of people who work for your companies get substantial extra money because their wages are too low,' he said. 'This is costing the UK tens of billions of pounds.'

He acknowledged that his proposal was perhaps a 'mad idea', but added that now he's a Government advisor rather than a front-line politician he was free to say 'mad' things. He also dismissed concerns that a hike would cause a surge in unemployment as, at the end of the day, the jobs will still need doing.

'When we introduced the minimum wage, everyone said it would be a disaster. But actually we've currently got more people at work than ever before, and that's with a minimum wage,' he said.
Lord Heseltine said he wasn't sure exactly how much the rate should be raised. But he did make the unarguable point that improving the British workforce's productivity, which is 20% lower than the US and Germany, could easily make up for the cost of boosting wages.

So can we expect a minimum wage announcement from Osborne today? The move would prove unpopular among business leaders with a lot of minimum wage staff, but could make sense from a macroeconomic perspective.

The chancellor is facing criticism for failing to close the deficit. The unfortunate truth about low-paid jobs is that the more of them that are created, the worse the state of public finances as the Government pays more out in benefits but collects barely any extra tax.

With the Tories still trailing Labour in the polls and low pay a pressing concern for voters, who knows if Osborne might just be tempted.