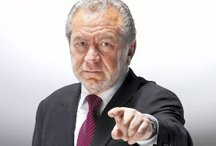 Lord Sugar enters Mayoral scrum
Quote of the day: 'In my opinion he is a driven, power-crazed egomaniac who will do anything to regain the power he once had.' Lord Sugar wades into the Mayoral debate in the Sun on Sunday. The object of his wrath: Ken Livingstone.
Find this article useful?
Get more great articles like this in your inbox every lunchtime