Lord Sugar and Louise Mensch in Twitter row over 'page three' slur
Former Conservative MP Louise Mensch and sleb/Labour peer Lord Sugar have had something of a Twitter altercation. Over what? Whether or not Mensch is sexy enough to appear on page three of The Sun...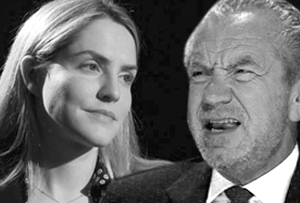 The row seems to have been raging for a couple of days now, although Louise Mensch has now stopped replying to Lord Sugar's 140-character taunts. It's proved difficult to work out who struck the first blow (mainly because Mensch seems to tweet about 50 times a day) but it seems that on November 4, Sugar made a somewhat indelicate remark. 'Publicity crazed serial feminist @LouiseMensch has a Sun column. The paper that exploits women on page 3. Doubt will ever put her on page 3 [sic].'
And they were off.
Mensch quickly responded to the jibe by tweeting: 'Lord Sugar, Labour peer, in attempting to foment some cheap twitterstorm says of me 'Doubt [Sun] will ever put her on page 3'.' Followers have weighed in on both sides, criticising Mensch's support of Mitt Romney, slamming Sugar's misogyny. Most of it's a little too heated to print here. Sugar's argument soon warped into an outright assault on Mensch's moral fibre: 'You are such a hypocrite,' he tweeted. 'You was [sic] giving Murdoch a hard time, now you write for Sun and you wont advise if you get paid or not.'