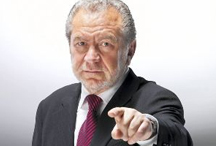 Lord Sugar warns Apprentice hopefuls: 'There's nowhere to hide'
Quote of the day: MT had a front row seat at yesterday's filming of The Apprentice: You're Fired. While we wouldn't dream of revealing who got the chop in the first week, we do have a little nugget from the show for your delectation. 'This isn't Where's Wally. I'm not looking for Lord Lucan,' growls Lord Sugar. 'And if I want a friend, I'll get a dog.' Translation: No hiding and no sucking up. As though any of these keen entrepreneurs would try such foul tricks...
Published: 20 Mar 2012
Last Updated: 09 Oct 2013
.

Find this article useful?
Get more great articles like this in your inbox every lunchtime