Lord Young calls for entrepreneurs to send in their gripes
The enterprise adviser to the Prime Minister is inviting UK business owners to submit policy requests which will be presented to the government.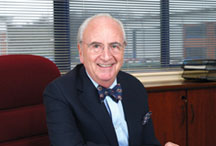 Lord Young, the government's enterprise adviser, has joined forces with entrepreneurs' organisation Prelude to launch Growth Britain, a new platform for business owners to submit policy requests to the Prime Minister.

Through the Growth Britain website, people can pitch ideas for driving growth in the UK and give suggestions on making it easier to launch a business.

The ideas span seven categories, including infrastructure, regulation, education and tax. Users are able to comment, vote and contribute their own ideas as well as challenge others.

'It's easy to spot what's not working, but what's much harder is to see what might be done to help drive growth,' said Prelude founder Duncan Cheatle.

The most popular suggestion so far is to promote entrepreneurial role models through children's literature. 'We are trying to gently introduce the idea of self-employment to children so that it becomes a realistic option for them when deciding what they want to do later in life,' the entry says.

Those who submit the most popular contributions will be invited to Downing Street to present their plans to Lord Young, who will then pitch their ideas to the government.

'I'm delighted to be working with Prelude and Growth Britain, lending my support to this initiative to garner the best ideas. I look forward to inviting the best contributors to a round table discussion at Number 10 Downing Street,' Lord Young said.

According to research published last week, 18% of 18-34 year olds in the UK want to start a business but fewer than 4% go on to create a company that pays a wage and makes a profit. Our counterparts across the pond appear to be faring much better - one in seven young people in the US are currently in the early stages of starting a venture, compared to just one in 17 in the UK, the findings from Shell LiveWIRE and Youth Business International suggested.