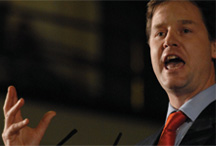 Lords reform kerfuffle creates rift in the Coalition
Quote of the day: 'The Conservative party is not honouring the commitment to Lords reform. As a result, part of our contract has now been broken.' There's trouble in Coalition paradise. Last night, deputy Prime Minister Nick Clegg voiced the Lib Dems' anger over the Tory's decision to drop Lords reform. Clegg said that the government was now in 'uncharted waters', and announced that he would now lead his party in voting against boundary changes that would make a Conservative majority in 2015 more likely. It looks like the bromance is over...
Published: 07 Aug 2012
Last Updated: 09 Oct 2013
.
Find this article useful?
Get more great articles like this in your inbox every lunchtime