Loyalty pays for Sir Keith
Loyalty Management Group, the company behind Nectar cards, has generated an enormous return for Sir Keith Mills and co. after being sold for £350m to Canadian group Aeroplan. You may find it deeply annoying that it's impossible to buy anything these days without being asked for the appropriate loyalty card, but clearly some people look upon these endless bits of plastic much more fondly.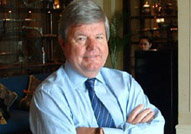 Sir Keith Mills, for one – the entrepreneur who set up Loyalty in 2001 and still chairs the company will apparently receive about £160 million for his 46% stake. Loyalty's management team will also be in the money after cashing in their 19% share, while private equity firm Warburg Pincus, which backed Loyalty in its early days, will apparently make a return of six and a half times its original investment. So there'll be lots of happy faces in the Loyalty offices this morning.
Loyalty was set up to try and imitate the success of Tesco's all-conquering Clubcard, with the likes of Sainsbury's, BP and Debenhams all jumping on the bandwagon. As you'll know if you've been anywhere near a shop in the last five years, the scheme works by awarding customers points for every pound they spend in the shops, which can eventually be exchanged for vouchers, tickets and so on. So if you buy about £300 of groceries, you might accumulate enough reward points to get a free bag of potatoes next time round.
But despite the relatively meagre rewards on offer, the cards do seem to work – presumably because customers are effectively getting something for nothing, and not many of us can resist that. And for the likes of Loyalty, part of the value lies in the huge amounts of data they can gather about customers' buying habits, which they can then pass on to participating marketers and advertisers.