Luke Johnson: Excitement and trepidation
Our serial entrepreneur looks forward to a Christmas shindig, but his natural optimism is tinged with concern for the transitory nature of the e-world we inhabit.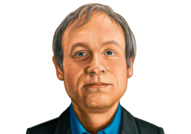 Every December, a few days before Christmas, I attend one of my favourite lunches of the year. I have been going to this intimate gathering for at least a decade. It takes place in a raffish casino in Mayfair and consists of about a dozen or so rakes - stockbrokers, entrepreneurs, fund managers, bankers, financial journalists and other rogues from the business world.
Apart from jokes, champagne and rich food, the point of the event is for every luncheon guest to tip a bull and bear stock for the impending year. I invariably pick my long and short punts a few hours before the meal, and come up with some flimsy reasons for my choices. Usually they do badly.
We each stick £50 in the pot and the winners divvy the stakes up. My fellow diners find obscure mining companies to buy and horribly insolvent banks to sell. The shares to dump always sound tempting, but I don't think I've ever followed any of the recommendations liberally dispensed around the table. I probably should have. I've learned that certain astute diners often know what they're talking about.