Luke Johnson: Sorrow of an alpha male
High achievers shouldn't be disappointed if their kids aren't too; food producers are the unsung heroes of British industry; if you want to get ahead in business, be a school rebel not the head boy.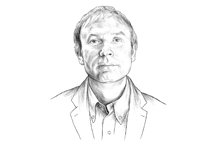 I recently spent a morning touring a factory owned by a 74-year-old self-made man. He was proud of the fact that he was a workaholic, and clearly still obsessed with his job. He has a fantastically well invested facility, where he spends almost 12 hours every day. The business is successful and produces innovative products.
It was an uplifting visit - until the final moments. Just before leaving, I asked about his family - and then came the brutal sentence, describing his only son: 'He is a failure.' No more details were supplied, but one can imagine a painful tale of disappointment and sadness.
It reminded me that being the son of a high-achieving, alpha male entrepreneur is probably not an easy life. The expectations are almost certain to be huge, especially if the father has clawed his way up from nothing and given his son a privileged upbringing.