Luke Johnson: Why I don't miss the Swiss
Entrepreneur Luke Johnson says UK banking exiles are welcome to smug Zurich, wishes the culture vultures would shut up - and lauds the sea-green incorruptibles.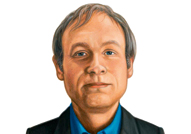 The FT claims various hedge fund managers who have defected from Britain to settle in Switzerland will cost the Treasury £500m in lost taxes. I even know some of them. Having spent a few days at an entrepreneurs' conference in Zurich recently, I think such exiles are unwise. I accept that Confoederatio Helvetica has good skiing and an impressive system of local democracy. London, meanwhile, is far from perfect, but it remains so much more diverse, sophisticated, glamorous and bohemian than Switzerland that there can really be no comparison. Our capital is a true world city, with all the choice, scale and vigour which that title implies; Zurich meanwhile is suffocating, smug and suburban. I could not wait to leave.
Of course, the financiers are not only departing because of tax. They do not like being endlessly demonised by our media, politicians and union activists. The downturn has brought out unattractive traits such as envy and ignorance among many who should know better. I fear too many of the critics would sympathise with the struggling peasant who had a rich neighbour. The rich neighbour bought a cow, something the peasant could not possibly afford. So the peasant prayed to God for help and his prayer was answered: God asked what the peasant wanted him to do. The peasant replied: 'Kill the cow.'
Educated citizens must be aware that economics is not a zero-sum equation: wealth creators in the City help offset trade deficits in other sectors, and even non-doms pay some tax and invest in Britain. To drive them away is self-destructive and small-minded.