Luxury brands are bottom of the class
Luxury brands may be good at racking up big profits, but their ethical and environmental performance leaves a lot to be desired, according to a new sustainability audit by the WWF. Using the likes of Sienna Miller as a clothes horse may not be enough to save them from a consumer backlash, apparently...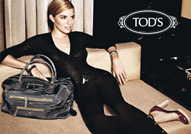 The WWF (that's the charity, not the wrestling federation) has produced a report called Deeper Luxury that examines the governance, environmental, and social performance of the world's top ten luxury brands, and grades them on a school-like scale of A to F. It turns out that these ten companies are more a remedial class than a top set: L'Oreal was the best of a bad bunch with a feeble C+, while Bulgari and Tod's failed the test completely, scoring a miserable F.
The companies were graded on the basis of both their own reporting, and NGO and media coverage. The WWF concluded that the £77bn luxury goods industry was guilty of depleting natural resources and exploiting cheap labour – all under a veil of secrecy. With their big budgets, they could and should be doing a lot more, it says.
And there's a good commercial argument for improving sustainability, the charity argues. Now luxury goods are becoming more accessible, the real competitive advantage no longer comes from exclusivity – it's about using better business practices to create a brand consumers can admire. 'Many successful people now want the brands they use to reflect their concerns and aspirations for a better world,' the report says. Or in other words, as WWF policy adviser Anthony Kleanthous puts it: 'Who wants to pay extra for a dirty brand?'