M&B serves up weak results
Pub group Mitchells & Butlers has seen its entire profit for the year wiped out by its derailed property joint venture. After a summer of rain and the smoking ban, it's been a pretty bad year in the pub trade – and for Robert Tchenguiz, M&B's intended partner in the venture, it's really been an annus horribilis...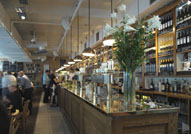 M&B said it had incurred paper losses of £221m on the hedging positions it had taken out in connection with the proposed joint venture, which was pulled earlier this year when the credit crunch hit and bank finance dried up. This was more than enough to wipe out its pre-tax profits of £207m in the year to September, leaving the pub group in the red for the year. It's bit of a come-down from last year's £220m profit.
Tchenguiz, who owns nearly 20% of M&B, must be sick to death of the credit crunch already. He's already suffered a huge paper loss on his investment in Sainsbury recently, when the change in financing conditions put paid to the Qatari takeover bid. It's not clear how much the property tycoon has lost from all this, but it's unlikely to be pocket change. And it's getting worse – M&B said yesterday that the losses had widened to about £260m since the end of the trading period.
The one bit of good news is that M&B still has a potentially lucrative property portfolio to play with – the value of which has apparently risen to £5bn, up £1.1bn. The planned tie-up with Tchenguiz's investment vehicle involved spinning off a big chunk of this portfolio into a joint venture – now M&B says it is giving 'serious consideration' to turning itself into a real estate investment trust, as a way of unlocking this value. In the circumstances, it seems safe to assume that Tchenguiz is the one pushing this – particularly since this appears to have been his favoured option from the start.