M-LEC spells CYA for IBs on IOUs
Whenever the financial services industry comes up with a clever new acronym to denote its latest arcane product, it's hard to escape the feeling that it's deliberately trying to confuse everyone. And a new offering due to be launched today is unlikely to dispel accusations that the industry is unnecessarily opaque.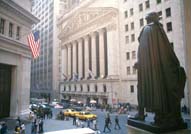 Not content with trying to confound us with CDOs and SIVs, Wall Street's finest have come up with an even better one – the M-LEC. The grandly-named 'Master-Liquidity Enhancement Conduit' is the likely name for a new $100bn fund set up to buy risky mortgage-backed securities, in an attempt to prop up a market still reeling from the sub-prime crisis.
The fund will be backed by three of Wall Street's biggest banks. Citigroup will be the biggest contributor, while JP Morgan and Bank of America are also on board. Rumour has it that US Treasury Secretary Hank Paulson is trying to strong-arm other Wall Street banks into getting involved – though the name of his former employer Goldman Sachs (which has made a fortune by betting against the sub-prime market) has been notably absent from dispatches.
Of course, this isn't exactly a charitable enterprise. The banks are desperate to avoid a scenario where billions of dollars worth of these dodgy securities flood into the market, sending prices even lower and resulting in big losses for all concerned (except Goldman, probably). The result could be that banks stop lending money to each other, potentially resulting in the kind of crisis that Northern Rock customers will be all too familiar with.