M&S is Britain's Most Admired
Marks & Spencer has crowned another stellar year by being voted Britain's Most Admired Company at MT's annual award ceremony – the business Oscars for public companies. It's the first time in 16 years that M&S has taken the top prize and the highest ever score, providing clear proof of the retailer's remarkable resurgence under CEO Stuart Rose.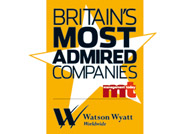 Rose himself was on hand to pick up the award from MT in London on Tuesday night, in front of a star-studded business audience. Not only did his company receive a record BMAC score to take the overall prize, it also managed to outdo all 219 of its competitors in no fewer than five of the nine categories on offer. Click HERE to see the full results.
However, although last year's winner Tesco slipped to second place, it was still a sterling year for the retail giant. It actually managed to accumulate an even higher overall score than last year, while boss Sir Terry Leahy once again collected the award for 'Most Admired CEO' – for the fifth year running.
There were also impressive performances this year by BSkyB, which has shot up from 42nd overall last year to 3rd place this year, and Serco, which won its sector prize by a distance and soared into the top ten for the first time.