M&S ends 86 year audit love-in with PwC
M&S has ended its historic relationship with accountants PwC, plumping for fellow Big Four big dog Deloitte.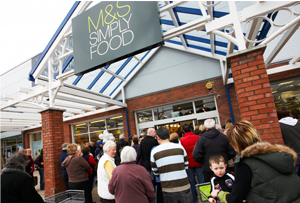 Marks & Spencer has dropped PwC as its auditor, ending a relationship of over 86 years, as European politicians continue to debate over how to chip away at the dominance of the 'Big Four' accountancy firms. A positively geriatric divorce.
The auditors' ivory towers aren't cracking just yet though. M&S kept its books within the Big Four, handing its contract to Deloitte, the company said in a statement yesterday. PwC, Deloitte, EY and KPMG audit an enormous 90% of UK PLCs.
The bad bookkeeping news hasn't stopped coming for PwC, who started auditing Britain's favourite pants purveyor in 1926. The audit whale lost Berkeley Group to KPMG today, having been with the home builder for almost 30 years since they first listed in 1984.