M&S named Green Business of the Year
Marks & Spencer took the Green Business crown last night, for its Plan A scheme. Good to see that cuts haven't tamed our companies' eco drive.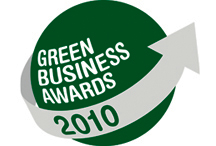 M&S was awarded the coveted – and needless to say biodegradable – crown, at a ceremony in Grosvenor House in London, which recognized 15 companies for their pioneering environmental efforts.
The retailer launched its £200m Plan A in January 2007, with the aim of becoming carbon neutral by 2012. It also covers everything from energy saving to fair trade and animal welfare.
But M&S wasn't the only company rewarded for eco innovation. Take Stagecoach, winner of the transport award for its bio-bus project – which encourages passengers to bring their used cooking oil to convert into bio-diesel, in exchange for discount vouchers.