M&S tightens belt as sales slide again
There's still no sign of light at the end of tunnel for struggling retailer Marks & Spencer...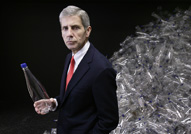 Another grim trading update from M&S, which for the last few years has been the darling of the UK high street. UK like-for-like sales fell by a whopping 6.1% last quarter, with food and clothing sales both well down year-on-year. M&S boss Sir Stuart Rose, who blamed the dismal showing on the 'fragile' confidence of increasingly cost-conscious punters, is now planning to cut investment in the business over the next two years, as he looks to batten down the hatches and see out the storm. So he's clearly not expecting an upturn any time soon…
Rose says M&S has responded to the 'unpredictable' environment by 'offering our customers better values and more promotions across the business.' In general merchandise (i.e. clothing and homeware), he insisted that M&S continued to offer 'great quality, stylish product, combined with keen values across all price points'. But we're not convinced customers agree – sales were down 6.4% on a like-for-like basis, and judging by the surprising jump in home sales last quarter, clothing presumably accounted for most of this. It's a poor show when not even Myleene can shift your stock.
The food arm isn't faring much better. Back in July, M&S parted company with food boss Steven Esom, the ex-Waitrose man, but it doesn't seem to have helped. Like-for-like sales were down nearly 6%, as shoppers continued to desert higher-priced grocers for the cheap and cheerful delights of Aldi and Lidl (not to mention Asda and Morrisons). Rose is hoping that the division's fortunes might pick up over the Christmas period, but he's also looking to cut prices by trimming some of its profit margins. And across the group, he says M&S will cut spending, postponing store refurbishments to concentrate on supply chain improvements - not an ideal situation when you're desperately trying to revive your fortunes.