What made Harriet Green escape via the emergency chute?
EDITOR'S BLOG: The Thomas Cook boss has left in a serious hurry. What happened?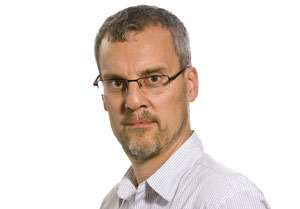 Call me a suspicious old hack, but I had a sneaking suspicion that Harriet Green was up to something. This was before the dramatic announcement today that she was packing her Louis Vuitton suitcase and heading out of the Thomas Cook door. She certainly had her poker face on and was giving nothing away when I interviewed her at MT's Inspiring Women conference last week.

I first thought, 'Hello, what's going on here?' when, a short while back, we had the extraordinary sight of Harriet in her leotard plastered all over The Times Saturday magazine. This tends to be the kind of intimate profile that CEOs allow to be written when they want to get their name out there into the market of headhunters and chairmen looking for a new leader for their business. (Not that she bothered with the headhunter when bagging her job at Thomas Cook - she legendarily cold-called the chairman to say she was the woman he was looking for.)

It's all speculation because Harriet is staying mum, but suspicions must be that she's had a considerable disagreement with her board about strategy for the company. It's a pretty disorderly exit and has clearly been done in a hurry. The telltale sign is that the chief operating officer has been left minding the fleet of ageing 757s and looking at a share price that immediately tumbled 20%. She's a forceful individual and I wouldn't imagine she went without quite a scrap.

I'd say that what means most to Harriet is Brand Me. That is not meant to sound critical but merely that she has learned to look after herself. Ambitious women always get written off as 'pushy.' She's a highly successful woman in business - there are only 5% women executive directors on FTSE 250 boards - which is not easy. She's met more than her fair share of crass sexism on the way up and knows how to deal with it. She has no old boys network to fall back on. But she has the sense of an effective gun for hire about her.

She's clearly capable of moving across sectors - from electronic component distribution to travel. And she is mightily driven. The whole world now knows about her gruelling schedule with its 3am wake up and sessions with her trainer at Browns in the wee small hours.
I asked her about the story that she's known as a 'landa' - part lion part panda - and she did not deny she has the ability to roar when needed.

So, not least because she's MT's Inspiring Woman of the Year 2014, we wish her well wherever she touches down next. With her love of all things Gucci, she'd be an interesting prospect for the luxury sector. You won't have heard the last of Harriet Green.