Major shareholder would back HSBC leaving UK
A senior exec at pension fund Standard Life, which owns 1% of HSBC, has said it would back a decision by the bank to leave the country.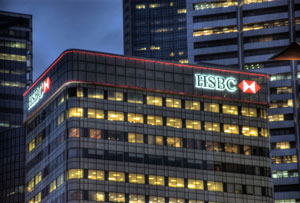 Speaking to the BBC this morning David Cumming, head of equities at Standard Life Investments, said that it would support a decision by HSBC management to move its HQ out of the UK, because the bank was being put at a competitive disadvantage by 'ever increasing capital requirements'.
He added that 'unless the regulator changes tack' such a move would result in better growth and earnings prospects for HSBC, so that from a shareholders point of view a move out of the UK would make sense.
Although HSBC has been making grumbling noises about the regulatory regime in the UK for ages and has said it will make decision before it AGM in February, this is the first time that a major shareholder has declared publicly its position on the matter. It is bound to put pressure on George Osborne ahead of the Autumn Statement later this week to do something to help ensure that HSBC's HQ remains here in the UK.