How the maker of Irn-Bru is responding to the sugar tax
AG Barr says it's focusing on 'substantially reducing' the sugar content of its drinks ahead of the 2018 sugar tax.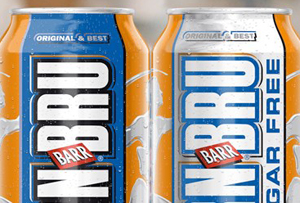 Shares in soft drink companies were hit hard after the sugar tax was announced in this month's Budget. But if all manufacturers respond in the way that AG Barr is hurrying to do, the impact of the levy could be far less significant than everyone is expecting.
The maker of Scotland's favourite lurid orange beverage said it would be significantly reducing the sugar content of its drinks in wake of the news. The company said it expects around a third of its products to be affected by the tax, but that the strength of its brands and adapting its products should help minimise the financial impact.
While it has described the sugar tax plans as 'extremely disappointing', it does at least, seem to be trying to take the tax on the chin. 'For the balance of our portfolio which would attract a levy, we anticipate that brand loyalty and consumer preference will drive continued demand,' said its chief exec Roger White. Nonetheless, he said the firm was moving its focus onto no sugar and low sugar products and 'substantially reducing' the sugar content of its drinks to reflect consumers' changing preferences.