Making the business case for inclusive design
Can making products more accessible be good for the bottom line, as well as the conscience?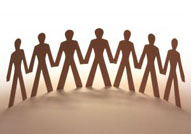 Should companies be trying harder to make products that work for a broader range of people? And if so, how do we encourage this? These were the questions MT found itself pondering last week, as we attended a round-table discussion (sponsored by BT) on the business case for inclusive design, i.e. making products that are more accessible to non-mainstream groups like the elderly or the disabled. And the consensus seemed to be that although progress has been made, there's still plenty of work to do to persuade product designers and senior execs of its merits.

By the sounds of it, lots of designers still haven't embraced inclusive design; they're too concerned with making products that look good or do something clever, as opposed to being easy to use (the best solution being to put them in a room with users so they can see its current limitations, apparently). But equally, some senior management haven't bought into the idea, either – perhaps because they think the potential market is too small to make it worthwhile, or they're worried about how long the process will take. And as Jeremy Linley (head of global design at Diageo) pointed out, you need senior people behind you to have any hope of pushing this kind of agenda.

The answer, all agreed, was to build a compelling business case. And there's a good argument that by failing to target these consumer groups, companies may be losing out. David Sindall of the Association of Train Operating Companies claims that the market for disabled train travel alone is worth £300m a year; while charity Age UK suggests that by 2020, there'll be 12.5m pensioners in the UK (and 16m by 2030). So companies that make products which are too fiddly or complicated for old people to use – a particular problem with new technologies – are missing out on a huge potential market.

However, others argued that the business case shouldn't just be financial. Some suggested it was also about giving senior bosses certainty about the process of inclusive design – for instance, by using the British Standard's 18-point plan (which, incidentally, is currently in a consultation phase ahead of its five-year revision). After all, particularly in the hi-tech world, you can't afford delays; speed and efficiency is of the essence. Others thought it was as much about CSR, or keeping up with competitors - or just simply making better products.

These are all perfectly valid reasons – and, you might argue, will ultimately pay off financially. But we can't help feeling that when it comes to the top brass, it's the prospect of cold hard cash – i.e. that under-exploited market – which will prove the biggest spur to action, particularly in today's straitened climate.

In today's bulletin:
No vote for fast-buck merchants, says ex-Cadbury chairman
'Robin Hood' banking tax garners celebrity support
Tech world a-Buzz with Google's new social media offering
Making the business case for inclusive design
The Parent Project: How to plan maternity leave