Making the gift of giving a little easier
Charitable giving is becoming quicker, simpler and sometimes even free...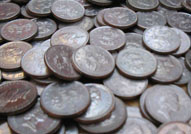 Corporate philanthropy may not have been completely scuppered by the recession, but it has certainly become more difficult - these days we don't see as many of those high-profile charity balls, where companies could show off, network and make some money for their chosen cause all in one go.
So it's a good job that organisations like The Big Give - which launched its £6m Matching Challenge last week - and Cleversquirrel are providing a fast, discreet way of coughing up for those who still have money to give. They've even come up with a way of contributing for those who don't have the dosh...

The Big Give allows high wealth donors to quickly, efficiently and anonymously search for charitable projects that pique their interest. The site acts as a 'dating website for charities', initiating conversations between the donor and the charity. This year's Matching Challenge aimed to raise £6m in a five-day working week, with a matched fund pot already created to double online donations. Not a bad effort for a country supposedly crippled by economic gloom.

But for those who'd like to do something for the greater good, even if their current situation prevents them from dropping a grand or two on a Hirst at their nearest charity auction, Cleversquirrel might be right up their charitable street. The principle is simple: to raise as much money as possible, without anyone having to donate any money...

The money comes from policies of insurance, investments and pensions - where often charges can be claimed by an adviser to cover the cost of providing help on the policy. If people don't have an adviser, they could be paying for help and getting nothing in return. In exchange for a signature, Cleversquirrel claims these 'adviser charges' and converts them into donations that continue for as long as the policies remain in force.
Equally, if neither of these appeals, there are plenty of other ways to get you and your employees involved. Sign up for payroll giving, get your company to match staff donations or give employees paid time off to do voluntary work. You'll have that warm fuzzy feeling in no time.