Making life taste better
Asda chief executive Andy Bond has already expressed concern that Sainsbury's could overtake it as Britain's second biggest supermarket. So he'll be looking over his shoulder even more nervously after the two companies reported their latest results this week.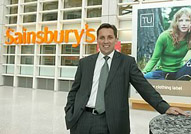 Bond was probably hoping that his Sainsbury's counterpart Justin King would have taken his eye off the ball in recent months, distracted by the company's long-running flirtation with Qatari fund Delta Two (and before that a private equity consortium led by CVC). But no such luck. Today Sainsbury's reported a 20% increase in profits to £232m, beating analyst's expectations, along with a 4% rise in like-for-like sales and a 2.8% increase in overall turnover. Not bad for a company that's spent the entire year beating off suitors with a very sharp stick.
Asda's figures, on the other hand, were slightly less impressive. Its profits last quarter were slightly down on this time last year, which it blamed on a price war in the sector over the summer. It insisted that it was ahead of plan and that its aggressive price cuts were winning new customers, but next to Sainsbury's stellar results the numbers look pretty lacklustre.
Elsewhere in the sector, research group TNS suggests that Morrison is finally getting its act together. Sales at the UK's number four chain were apparently up 10% last month, providing another competitive headache for Asda.