Making money out of IRL networking in the internet age
Startup 9others proves people are willing to pay for the privilege of meeting like-minded types for real.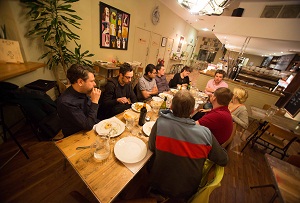 A futuristic buzz is in the air – will machine intelligence outstrip that of man? Will the Sunday People close within a year? Can the law industry be disrupted by talking lawyers into functioning without their snazzy offices?

The people that have gathered in this gallery-cum-office near Oxford Street are graduates of 9others, a networking startup Matthew Stafford founded with Katie Lewis, a business development manager at Accelerator Academy. Stafford and Lewis' mantra is simple: 'Your success requires the aid of others.' So is their method: get ten 'loosely curated' entrepreneurial types, add food and wine, begin conversation.

Despite the obviousness of the concept, and the competition from rival networking groups like Table Crowd and Meetup, 9others has done rather well for itself. There have been high-profile success stories: Azmat Yusuf, founder of the transport app Citymapper, got a portion of his seed investment from the man he was sitting next to at a dinner in 2012, and Uber's initial contacts in London PR and journalism came through 9others channels.

Over 1,500 have attended a dinner since it was founded in December 2011. 'The first eight months was just London. Then we had the aim of getting to 12 cities in the following 12 months - which we did. We're now in 26 cities (and I've spoken to two this week about potential meals there),' Stafford says.

9others' revenue comes from sales of dinner tickets (about £40 per head), supplemented by its occasional reunion parties (£10-£50), though the figures vary according to city. Impressively, for a company that's received zero investment, 9others says it has turned a profit since day one (although it's tight-lipped on its exact figures).

It helps that it doesn't have to fork out on advertising. A minimal website and a Twitter feed with fewer than a thousand followers are the public face of 9others – word of mouth is generally how potential dinner attendees get hooked.


'We've had first-time entrepreneurs sitting next to someone who exited for $2bn [£1.3bn] – they're on the same level at 9others if they're both willing to come along, contribute, help others and learn,' Stafford says.

'Often we do know some challenges/opportunities that people are facing beforehand and this can help us curate other guests.'

How do the actual meals work, then? At a small Italian restaurant near Charing Cross Road a few days later, under Chatham House rules, each member of the group introduces his business and the problems he is facing with it. Everyone else then suggests solutions.

And yes they are all male. Perhaps it's no great surprise given the evening is tech-themed, although most 9others dinners are male-dominated. 'They're generally tech/high growth/looking for investment type businesses so it is mostly male,' Stafford explains later. 'And the average age is probably late 20s/early 30s.'

A teaching and strategy consultant speaks of problems with scaling, and the feast or famine nature of his line of work. In other words, there just ain't enough time to sleep. 'Why not try polyphasic sleeping?' (breaking down sleep into smaller blocks) came the reply. 'I know someone who did that, and he lost his girlfriend and most of his friends. But he did get a lot of work done,' a fellow diner says.

One of the group, who had come across 9others in Bangkok and made a point of joining up with the London branch on his brief trip to the UK, spoke about the challenges of moving from a client-based business to focusing on products, and how to build a brand in the UK when the company is largely located in Thailand. Should they focus on building new relationships, or working with an agency that has already established their own?

'Find an agency,' the group responded. 'Let me know when's good for coffee – I'll introduce you to people at Publicis,' Stafford says (he does run a networking business after all).

Another guest wonders how to find the talent to increase his tech staff from 19 to 25. 'Developers cost a lot, but how good actually are they?' None of the group could improve much on his own suggestion that they should recruit in Wales, where the government is willing to stump up grants to cover 40% of a tech employee's wages for their first two years.

After a couple of hours of discussion, the formalities were concluded by Lewis: 'Let us know if there are ever people we can help you network with – we want to be as useful to you as possible.' And with that, milling resumed, in due course giving way to pub drinks.

The dinner hardly fizzed with paradigm-shifting ideas and you can't help wondering how much use it was to discuss the merits of polyphasic sleeping. But 9others and its rivals are nonetheless proof people are willing to fork out for the privilege of intimate, IRL networking in the internet age.