Is Malaysia ready for when the oil runs out?
Malaysia's oil runs out in about 19 years and within five years it will become a net oil importer. However, the country is ill prepared to manage a successful post-oil economy.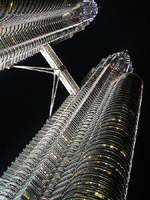 Rather than spend its resources and energies on preparing for this moment, it is indulging in a wasteful spending spree, funded by revenues from Petronas, its national oil company. The country also spends too much time arguing about how to divide wealth between the Malays and Chinese, instead of working out how to create wealth.
The government aims to put 30 per cent of corporate equity in Malay hands using an 'absurd' figure based on equity valued at par value. It wastes money on grandiose projects such as the building of the Petronas Twin Towers in Kuala Lumpur (1996) when there was no office shortage in the city. Rather than show off Malaysian national expertise, the engineering was contracted to South Korean companies and the shopping centre beneath is run by Australia's Westfield.
Next year, Malaysia sends an astronaut into space, aboard a Russian rocket at a cost of $RM95 million ($26.2m), to be paid for by the taxpayer. The next target: a moon landing aboard a US vessel by 2020. Rather than spend money on stunts like this, the government should be investing in more important areas such as education.
Source:
While Malaysia fiddles, its opportunities are running dry
By Michael Backman
The Age, November 15 2006
Review by Morice Mendoza