Male entrepreneurs use social networking to get ahead
Men seem to be better at taking advantage of online networks at work - but not so great at seeking help.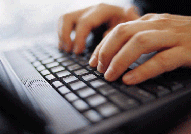 We all know that social networks are playing an ever-larger role in the workplace, but this may be largely down to people with a Y chromosome, if a new report is to be believed. According to Enterprise UK and the Make Your Mark Campaign, men are better than women at networking online, at least in a professional sense: its research shows that they're happy to connect with fellow professionals over the internet, including people they've never even met – whereas women prefer to keep their online networks for friends and family only. But even if men really are better at virtual professional networking, our experience here at MT is that women are no slouches when it comes to the real thing...

These figures certainly make interesting reading. According to the research, almost three quarters of women are reluctant to use online social networks for professional purposes (which you might argue makes perfect sense – who wants a client poring over their holiday bikini snaps?). However, their male counterparts have no such qualms: two-thirds of men are apparently logging on to Facebook and Twitter, not just to chat with their mates but to colleagues and clients too.

But it's not all bad news as far as the ladies are concerned, the report says. While the majority of men would be only too happy to approach someone they didn't know but were connected to via an online network, to get advice on starting a new business, women are twice as likely as men to approach a business advisory organisation as a first port of call. Now we'd hate to be accused of gender stereotyping, but that may not come as a complete surprise (particularly if you've ever been in a car with a man who refuses to stop for directions, thus adding an extra hour to your journey unnecessarily).

What the report fails to mention, however, is that women are often highly gifted networkers when it comes to face-to-face interaction – as MT's 35 under 35 networking event last night demonstrated. Online networking has clearly come a long way, but we like to think it's going to be a while before it entirely replaces real people actually talking to each other. And in that respect, we don't think women have too much to worry about.

In today's bulletin:
Nationwide slams Government as profits plummet
Don't let hedgies scupper Cadbury, says CBI's Lambert
Editor's blog: Bolland can slay the sacred M&S cows
Male entrepreneurs use social networking to get ahead
MT's 35 Women under 35 - and Carolyn McCall - hit LK Bennett