Man United's brand is more valuable than ever
Despite mixed blessings on the pitch, a new report claims the Red Devils have the strongest football brand in the world.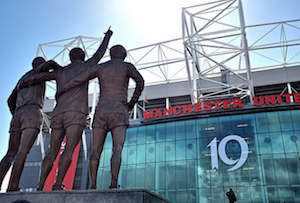 Manchester United's on-pitch performance may be underwhelming compared to its 90s and 00s heydays, but it seems its mammoth brand has survived the departure of long-time manager Alex Ferguson and the disastrous tenure of David Moyes.
A new report by Brand Finance claims the northern club has reclaimed its place as the most valuable football brand, leapfrogging European rivals Bayern Munich and Real Madrid in the process. The research says Man U's brand is worth $1.2bn (£790m), up a whopping 63% on last year to its highest level ever, suggesting that lacklustre football is no barrier to business success.
'The most critical success factor in the Manchester United brand's renewed financial potency has been this year's record-breaking, £5.1 billion deal for the UK broadcast rights of the Premier League,' the report said. Each club will net about £81m per season, and indeed the brand values of fellow Premiership clubs Manchester City, Chelsea, Liverpool and Tottenham Hotspur have also enjoyed a healthy boost.