Man United's sales have dived faster than Ashley Young in a penalty box
The football club's revenue slumped almost 10% in the three months to September.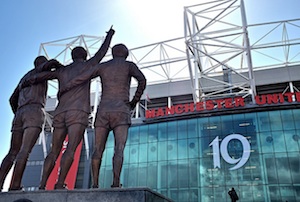 Manchester United's revenue fell 9.9% year-on-year to £88.7m in the three months to September after failing to qualify for the Champions League at the end of last season.

Its matchday sales were particularly damaged, falling 21.8%, while broadcast revenues dropped 13%. Adjusted EBITDA in the quarter (its first fiscally) fell 8.6% to £20.3m.

The team has been struggling since the departure of Sir Alex Ferguson who stepped down as manager last year after 26 years at the helm. His replacement David Moyes was ousted mid-way through last season after one of the club's worst campaigns in decades.

The club's executive vice chairman Ed Woodward (who should really use his full name) put on a brave face. 'While we recognize that the 2014/15 fiscal year financial results will reflect our absence from the Champions League, we signed the largest kit sponsorship deal in the history of sport in the first quarter and, with that concluded, we are excited to focus our efforts on the meaningful growth opportunities in sponsorship, digital media and retail and merchandising,' he said.

Moyes' replacement Louis Van Gaal hasn't fared hugely better so far. Despite spending £150m on new players like Argentine star Angel Di Maria, United still lies 7th in the table - not high enough to get them back into the lucrative playground of European football.