Man U's Alex Ferguson reveals it's all about 'the love' to Harvard University class
Alex Ferguson, manager of Manchester United, has explained how he got to the top and how he manages his players, to a class of Harvard undergraduates.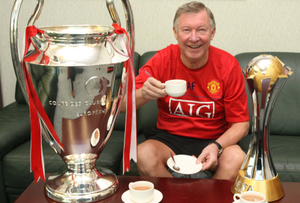 Alex Ferguson last night told Harvard Business School students some of his secrets about how he reached the top and how he has managed to stay there for 26 years.
Speaking openly about how he manages football players, he said: 'There is no room for criticism on the training field. For a player – and for any human being – there is nothing better than hearing 'well done'. Those are the two best words ever invented in sports. You don't need to use superlatives.' This cuddly side may come as a surprise to many.
He was speaking to the students having been the subject of an academic study by the business school's professor Anita Elberse. Fergie, who turns 71 on New Year's Eve, is famous for never speaking up about his management style. He added that criticism is a short, sharp thing for him, saying: 'You can't always come in shouting and screaming. That doesn't work, no one likes to get criticised.