How to manage boardroom disputes
Things have been getting distinctly tetchy in your boardroom lately and two of your directors are at loggerheads. How can you stop open warfare breaking out? Here's a crash course.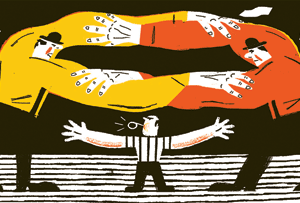 Conflict can be constructive. Arguing is a sign of a healthy boardroom, says Ed Weeks, a partner at law firm Cripps Harries Hall. 'A board should be debating strategy and stress-testing ideas, otherwise it is just standing still. It shouldn't be rubber-stamping decisions made by managers.' It's when the disagreement becomes entrenched and personalised that conflict turns toxic.
Put it in the constitution. In private companies, disputes can arise over issues such as a perception that some partners are contributing more or benefiting more, says Rowena Herdman-Smith, a litigation partner at Mishcon de Reya. 'A good shareholder agreement and company articles will make it easy to police,' she says.
Take pre-emptive action. Good boardroom practices can mitigate the risk of serious disputes, says Oliver Johnston, a board-level coach at HR services group Penna. 'There must be a clear decision-making protocol, so that if you can't reach a quick consensus you are clear how a decision will be made. And all board members must have the space to say what they want to.' A good shareholder agreement is key to avoiding disputes among directors in private companies.